Do you work with a charity or not-for-profit organisation ?
Are you looking for an innovative and interesting way to raise funds ?
Did you know you can get 5% of the value when your supporters sell their gold to us !
How does it work ?
You promote our company as a partner in fundraising - through your own channels (website, flyers, adverts, facebook etc)
Your supporters come to us to sell their unwanted or broken jewellery, and give the name of your organisation.
We send 5% of the value of the gold by cheque to you at the end of each month !
Benefits..
No cost to set up
No ongoing management
A valuable service to your supporters
Ready-made marketing artwork and logo's available
To get set up for our program, all it takes is a single phone call ! We will take the details of your organisation and set up an account. We will discuss ways you can use the marketing materials to your advantage, and if necessary, we can send a member of staff to one of your events to explain and promote the service.
The great news about Gold for Good, is that everyone wins !
Your organisation receives additional funding at no cost.
Your supporters get cash for obsolete jewellery.
We generate additonal business and promotion.
Call us today to see how we can all benefit from working together with Gold for Good !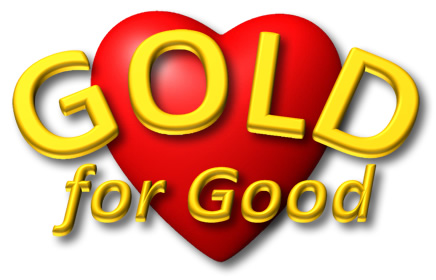 Promotional Materials...
The following are logos and artwork you can download for use in your own marketing and promotional materials.
Gold For Good - partnership banner (JPG)
Gold For Good - How It Works (JPG)